Time is running out, our 20% OFF sale ends today!
Did You Know That A Quality Probiotic Supplement Can Play a Crucial Role In Boosting Your Immune Health?

Now, more than ever, optimizing your immune response is vital.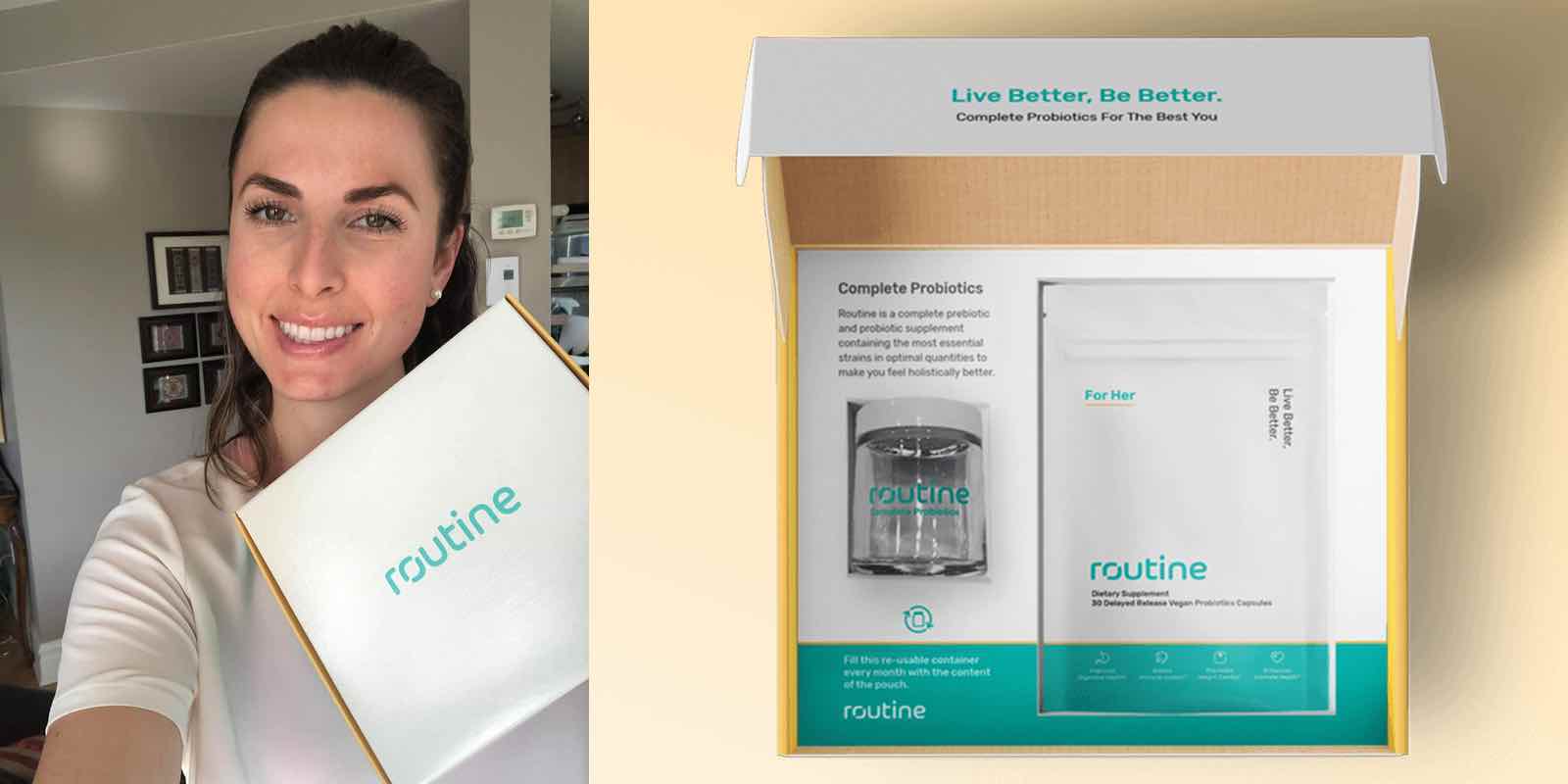 Just take a look at what's going on in the world right now, and the importance of having a healthy immune system is obvious.

🔥 Revving-up your immune response helps you maintain optimal health!

A healthy immune system helps your body defend against bad bacteria and viral infections.
Scientific research shows that gut health plays an essential role in optimizing your body's immune response.
Our gut accounts for about 70% of our whole immune system and a healthy gut contains a good supply of living, beneficial bacteria.
---
In fact, you have about 300 to 500 different species of bacteria in your digestive tract right now! :-)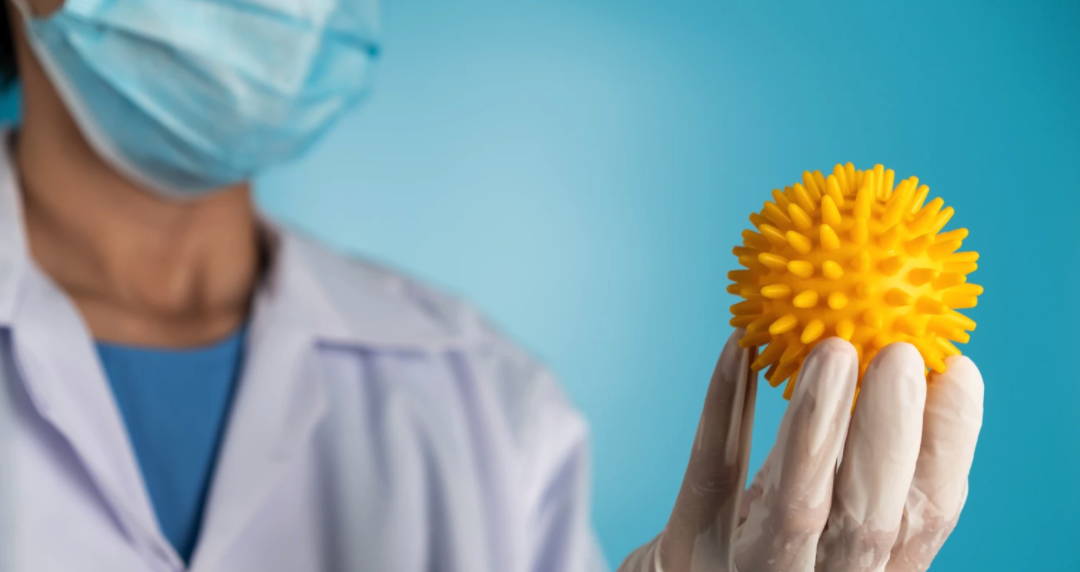 While some bacteria are harmful, others are beneficial and even vital for maintaining optimal health.
Here's the problem…
Your immune system requires a ratio of 85% good bacteria to 15% bad bacteria, but...
When this balance is out of wack, it can cause your gut to become 'leaky' which in turn can weaken your immune system.
This imbalance is caused by things like:

✖️ Antibiotics
✖️ A diet high in heavily processed foods
✖️ Environmental toxins
✖️ Chronic stress and anxiety
✖️ And a sedentary lifestyle


In other words, "life" happens!
According to one study in the Journal of Gastroenterology and Hepatology, having a wide variety of good bacteria in your gut can enhance your immune system function.6 
---
Taking a high-quality probiotic supplement is proven to combat the core reason WHY our immune systems can become weakened over time.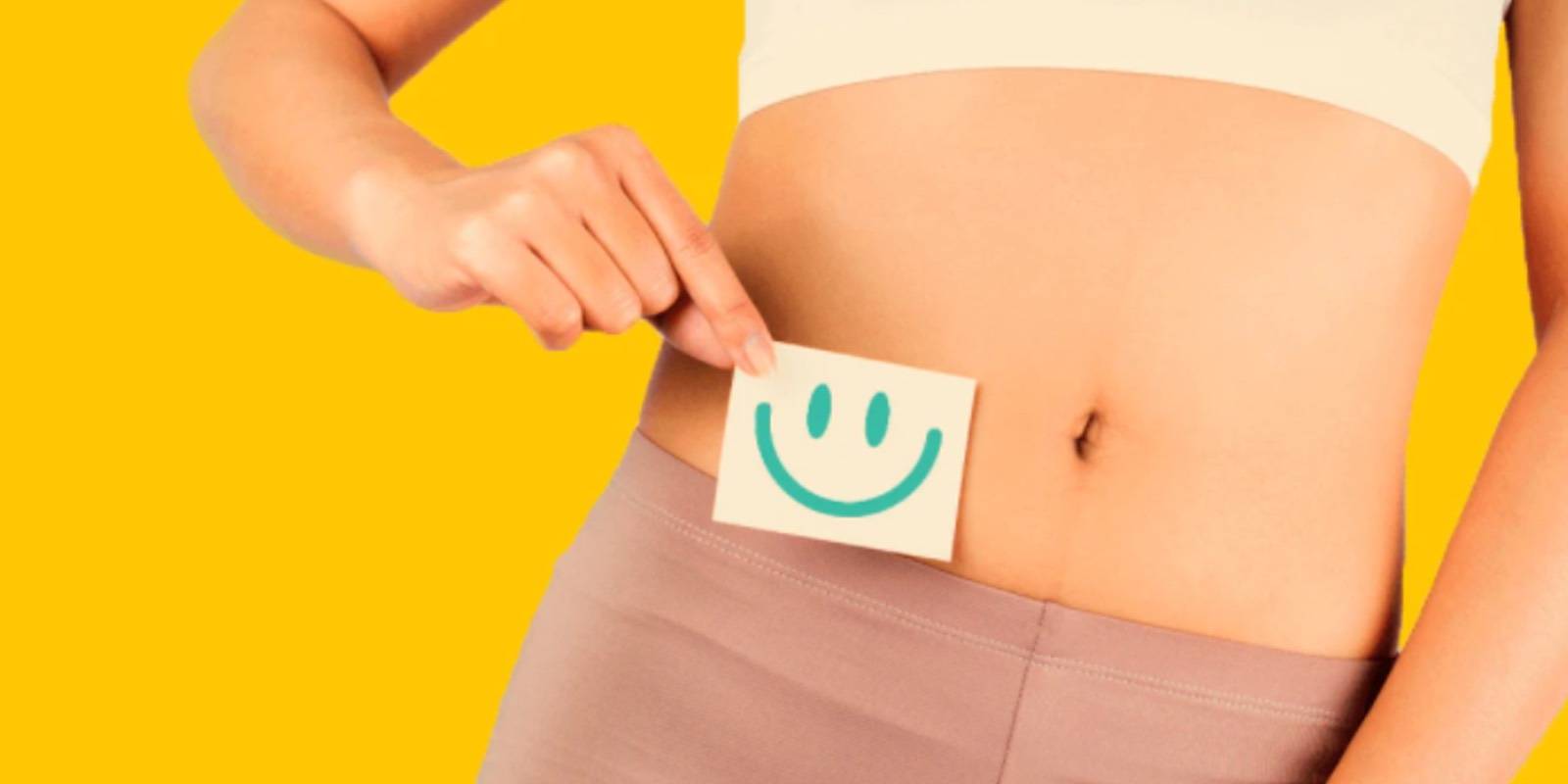 Probiotics are living, good bacteria that can be used to enhance your overall gut health.
Nourishing your body with the highest quality, essential probiotics is key to a healthier, more vibrant you.
However, not all probiotics are created equally, nor do they all provide any benefits...
---
That's where "Routine For Her" can help...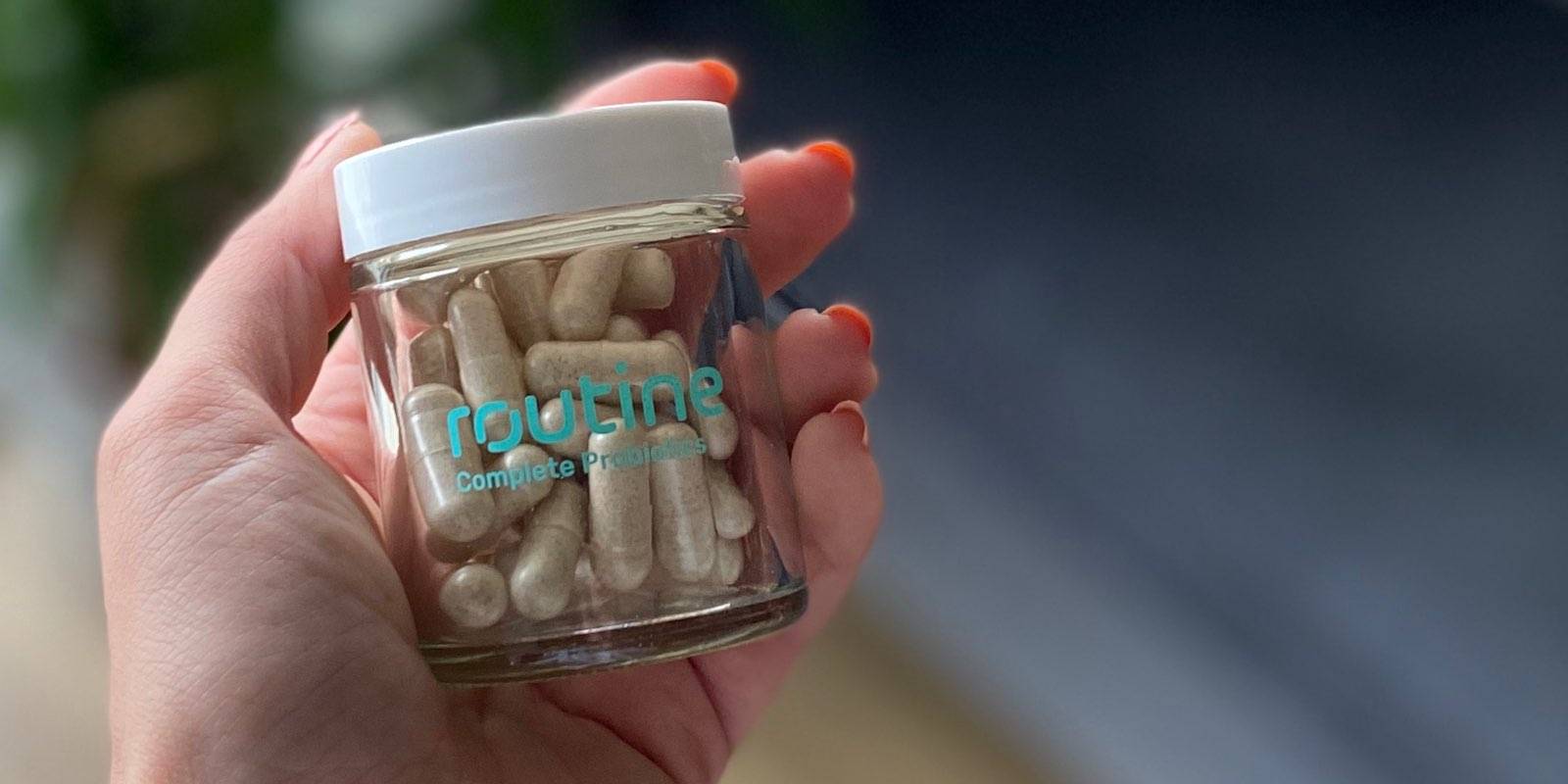 Routine is a complete probiotic supplement that contains only the most essential strains of good bacteria.

These vital good gut bacteria are carefully combined in optimal ratios to help you:
- Defend against bad bacteria and infections
- Improve recovery time if you are sick
- Help you live better, feel better, and be better!
---
Because it's made for women, Routine's 5 premium strains can also help you...

🌼 Balance Vaginal Health
More good-for-you bacterial flora means less infections 
🔥 Promote Healthy Weight
Part of a well-rounded approach to fire up metabolism and reduce body mass 
🙋‍♀️ Improve Gut Health

Goodbye, GI issues—hello, regularity
---
Made specifically for female needs, Routine isn't like those other lacklustre probiotics found on store shelves..

A clean, complete prebiotic-probiotic supplement with 24 billion CFU per capsule guaranteed and formulated with 5 ultra-premium strains.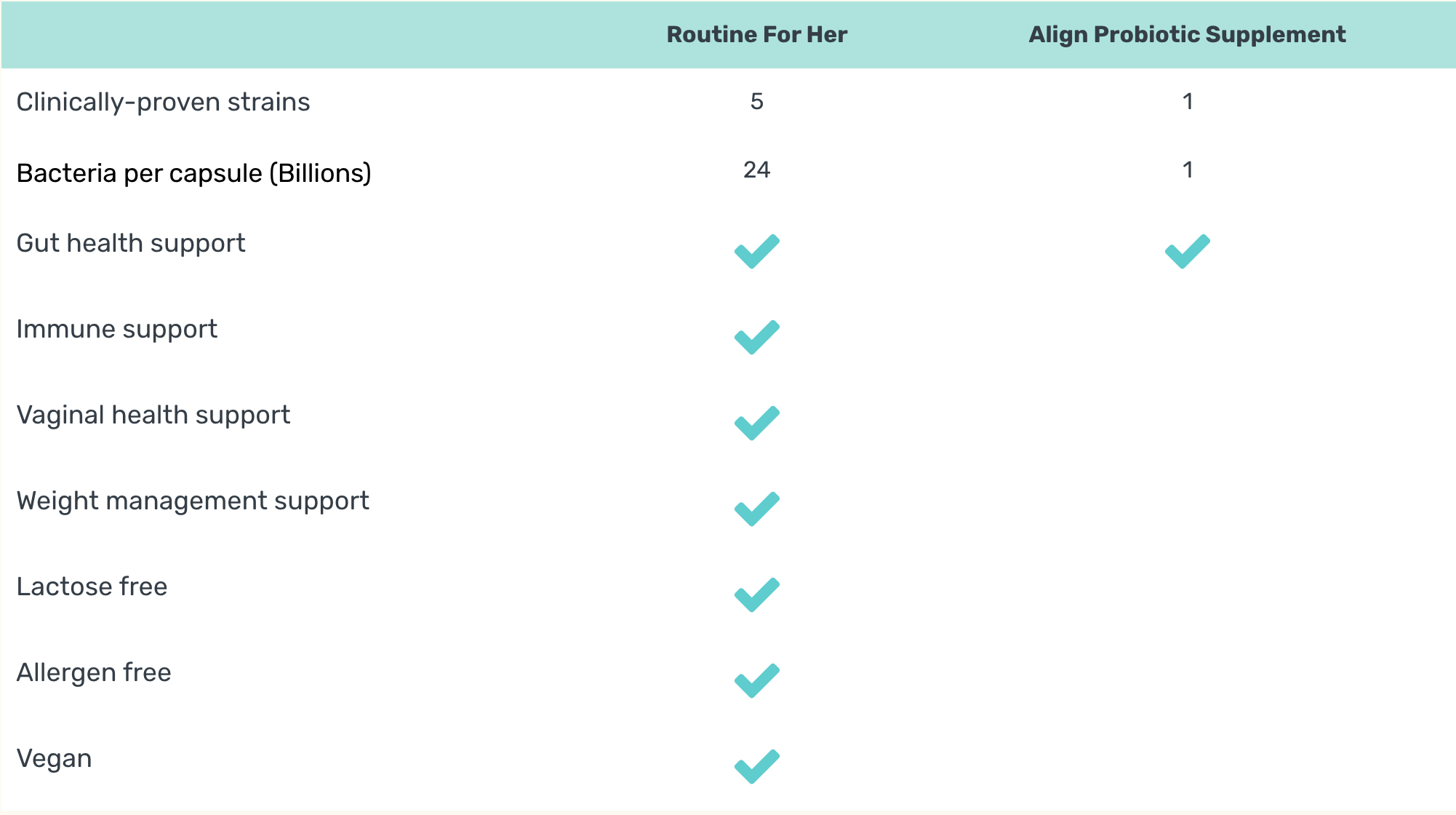 Routine chose one of the most highly studied strains of probiotics to address gut issues: Bifidobacterium lactis HN019.


This probiotic has been shown to improve overall gut health, help naturally regulate your digestive system, and nix those uncomfortable symptoms. 

In fact, in a randomized, triple-blind, placebo-controlled study of adult men and women found that those who took B. lactis HN019 for 2 weeks had a shorter gut transit time and significantly reduced GI symptoms, like constipation, irregular bowel movements, and flatulence.

Even in low doses, B. lactis HN019 makes a difference.

In a 4-week study of elderly adults, those who took the lowest levels of the probiotic strain still saw an increase in good gut microflora, specifically bifidobacteria, lactobacilli, and enterococci2.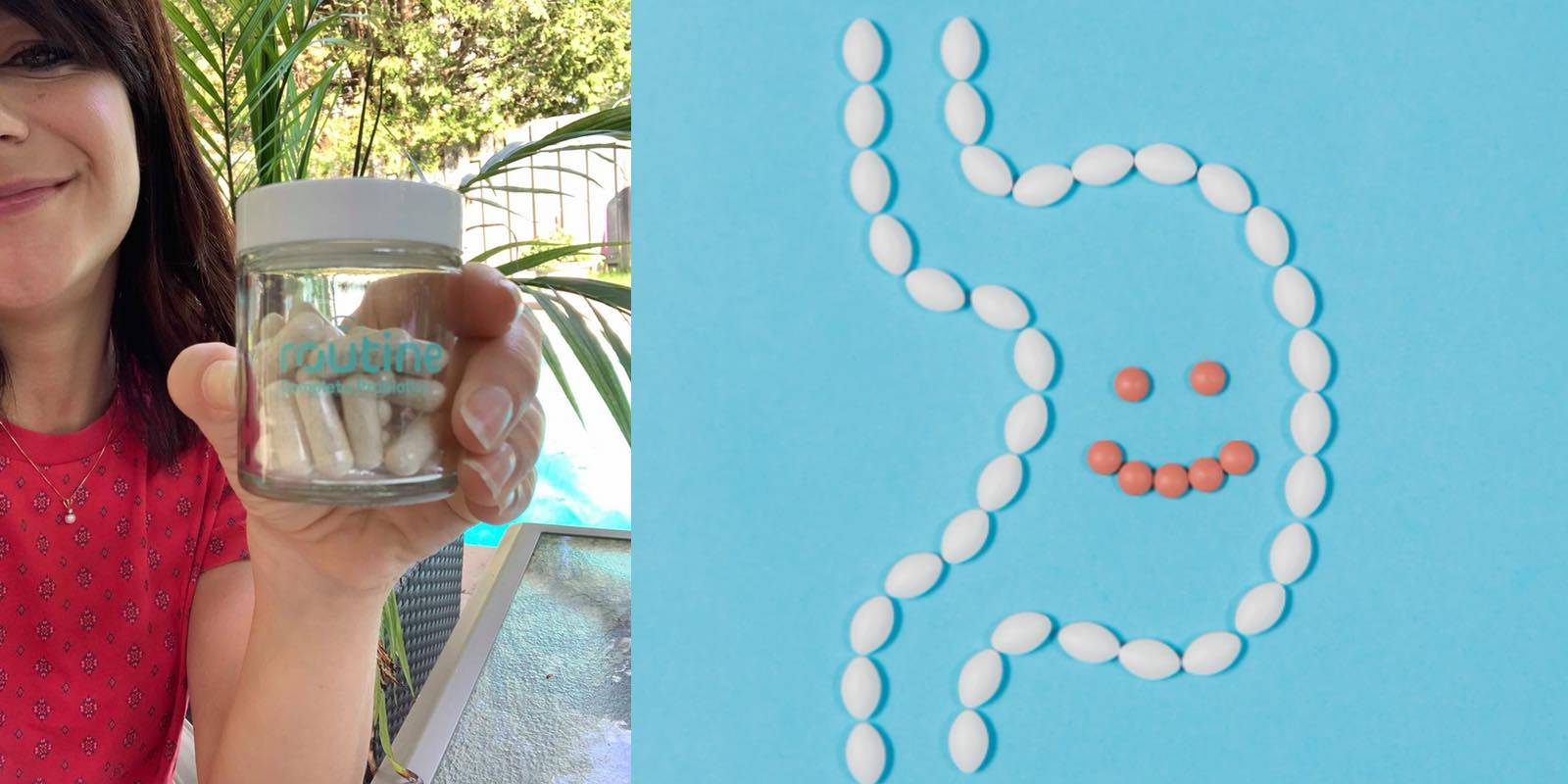 ---
As an added benefit just for women...
TWO of the strains Routine includes...

Are proven to support vaginal PH, increase beneficial vaginal flora, and improve the frustrating symptoms so many of us have challenges with.
Specific Lactobacillus bacteria in particular are key to achieving balance in the vaginal microbiome.
Routine combines Lactobacillus rhamnosus HN001 and Lactobacillus acidophilus LA-14, two thoroughly studied probiotic strains that have been clinically proven to help guide your body to total intimate equilibrium and balance.
Like we say, bacteria can sometimes be your best friend, and using only premium strains of probiotics is what makes Routine different.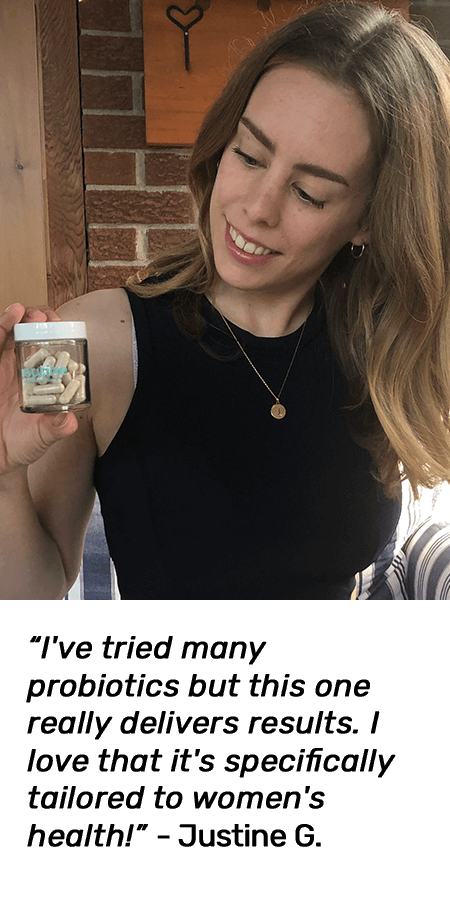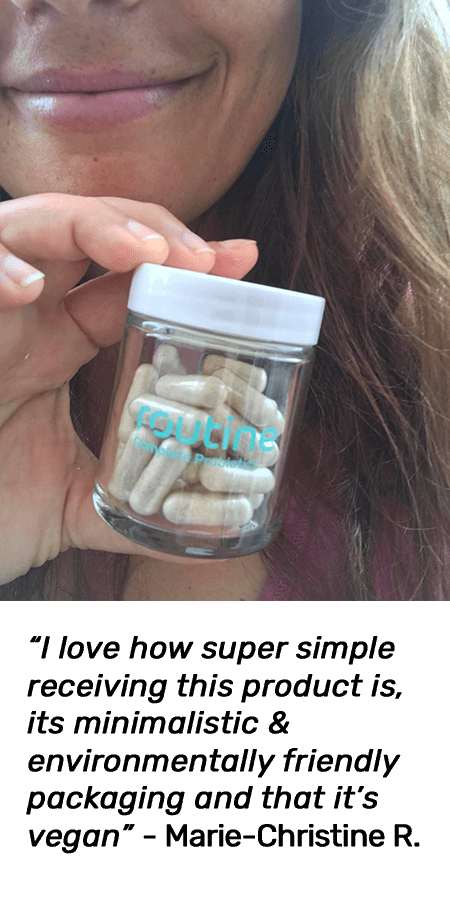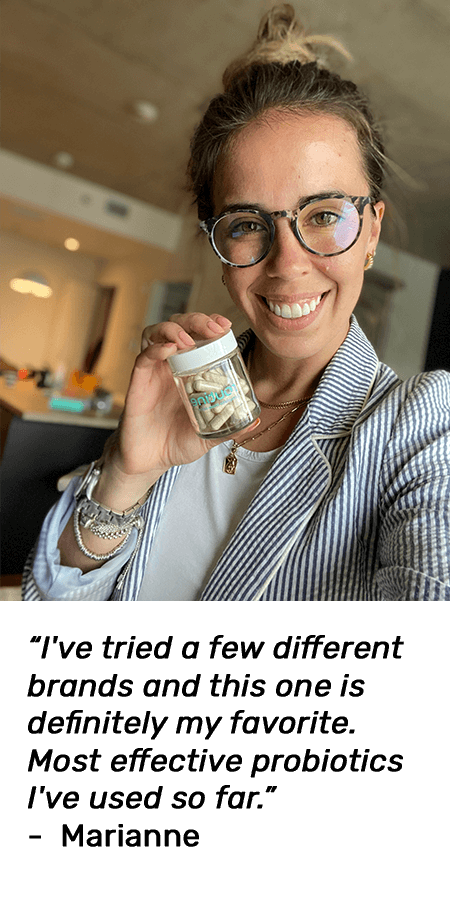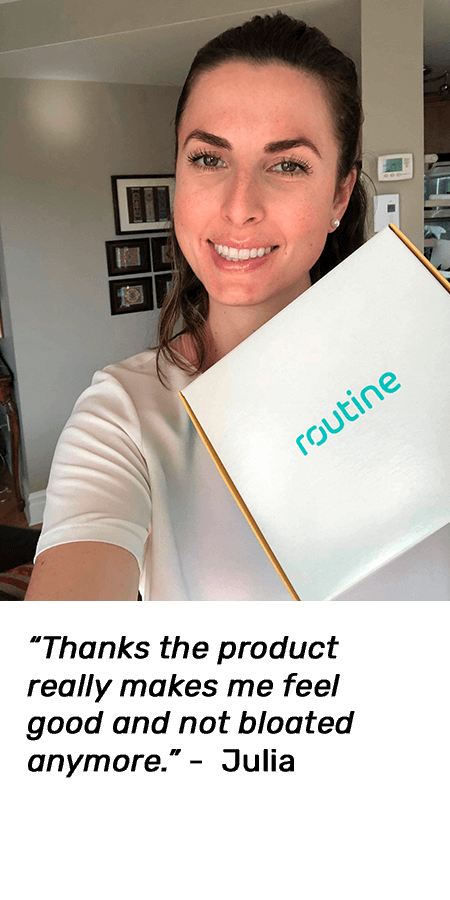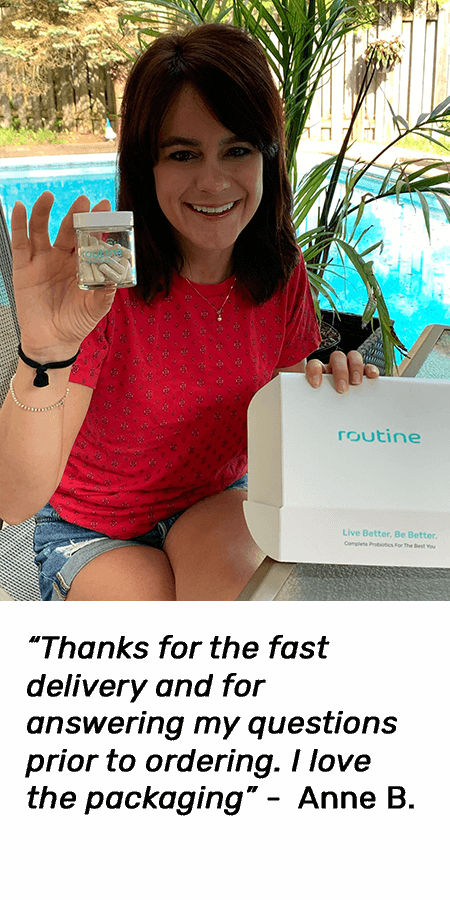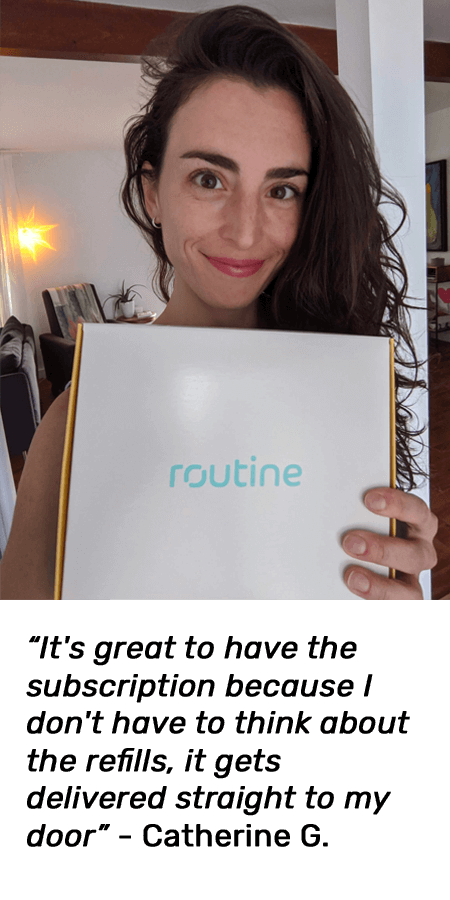 ---
Routine was designed to be a simpler, streamlined, scientifically-backed supplement offered without all the 'fluff' and hype.

Our PRE & PRO Biotics feature:

✅ A Natural Prebiotic and a Unique Probiotic Blended
✅ Only premium quality ingredients and strains
✅ A Vegetal Capsule, Fully Vegan product
✅ Delayed-Release to avoid loss of bacteria due to stomach acids
✅ Nothing Artificial - no dairy, no GMO, no Gluten, SOY, or preservatives

---
Here's what a few women had to say…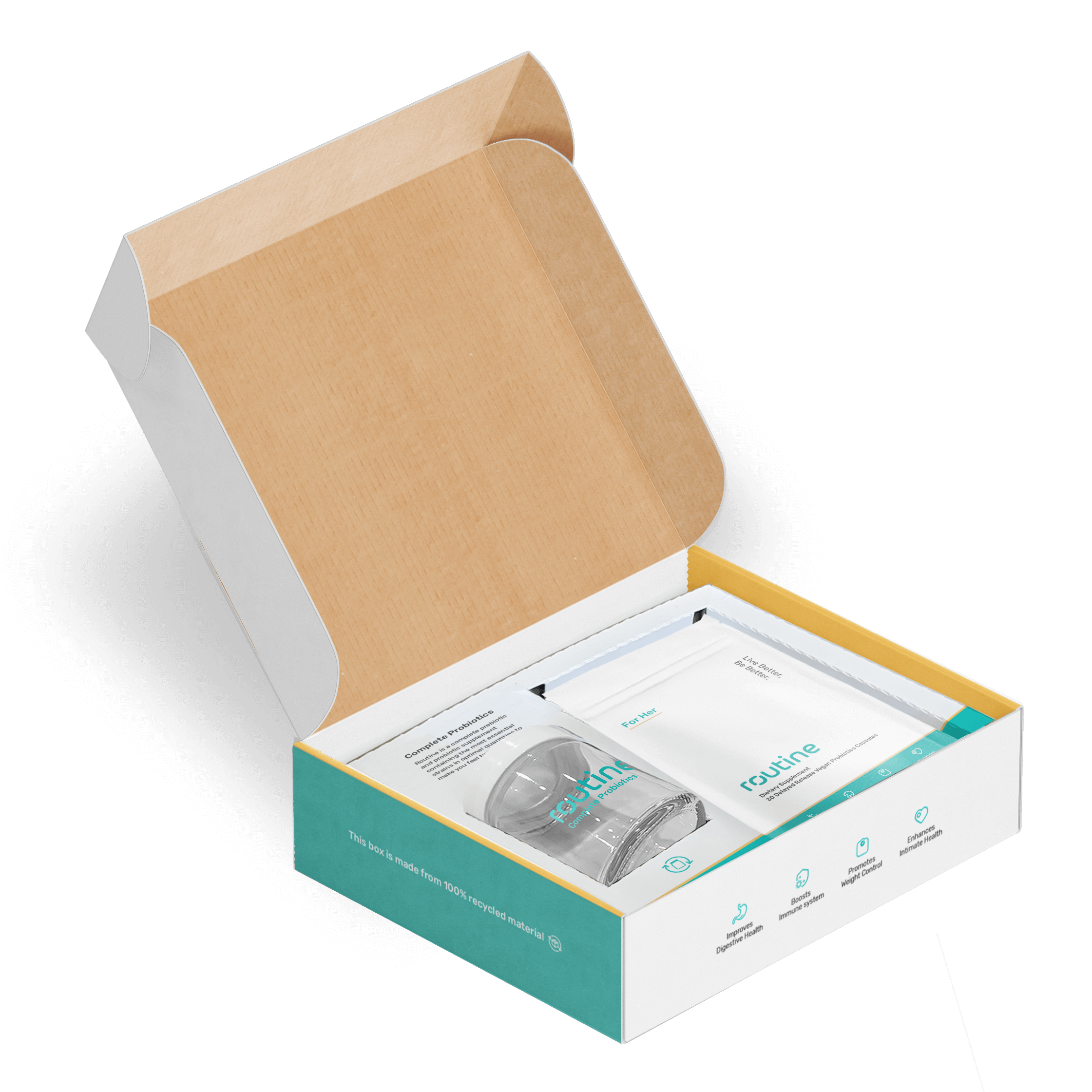 ---
Routine is guided by five important principles: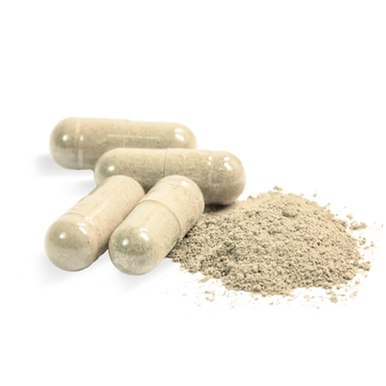 1. Science First

We did a massive amount of research and label-reading, digging deep into the clinical studies to learn about the probiotic strains that get real results so you don't have to.

Other probiotic brands brag about offering dozens of strains and billions of CFUs, but the truth is, it's about quality, not quantity.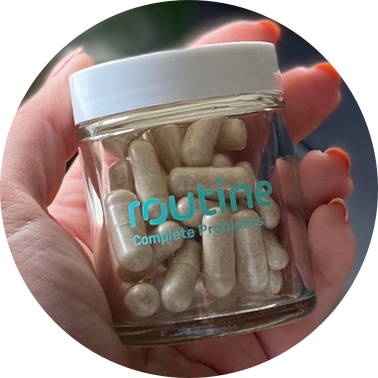 2. Ingredients With Integrity
Routine uses only the most effective strains of probiotics in a slow-release capsule to help prevent nausea and improve absorption so your gut won't miss any of the beneficial bacteria.
Plus, we top off our unique formula with ashwagandha, a centuries-old herb that research shows can significantly improve your well-being.
3.Trust, Transparency, and Traceability

We operate every aspect of our Routine products ourselves - from working with leading scientists and researchers who help us choose the most potent probiotic strains to bottling and handling packaging and distribution.

There's no middle man or third-party warehouse — it's all us from start to finish!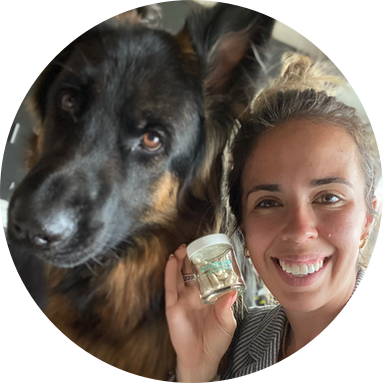 4.Cultivating a Connected Community

We're big believers in the idea that the whole is greater than the sum of all its parts.

That's why we encourage our customers to share their own stories along the way on their journey to improve their health and enhance the quality of their lives.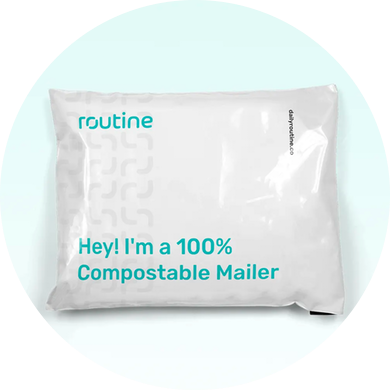 5. Good 'Stewards' Of Our Planet
We're committed to eco-friendly practices with everything we do, so we can all help to reduce our carbon footprint.
- Our packaging and mailers are made from recycled materials which can be recycled again or composted
- Our glass jar is reusable and recyclable
---
If you want a fast, effective way to improve your health, Routine delivers what no other probiotic does…

A clean, complete, scientifically-proven, immune-boosting probiotic delivered with minimal eco-impact.
And if you order today...

0Routine is offering new customers the chance to save BIG.

For only $29.95 you can experience the many benefits or Routine's 5 premium strains with ZERO risk.

That's right... Routine is better than the competition and it costs less too.

Don't forget that when you purchase on this website right now, your order will include...

✅ Fast, FREE, 2-day shipping from our USA warehouse
✅ Features 5x premium strains built just for women
✅ 30 capsules jam packed with 24 BIlLLION CFU ( that's 24 times more than some other brands like "Align" )
✅ Our rock solid guarantee. If you aren't happy we'll refund your order

What Are You Waiting For?

Kickstart Your Routine Risk-Free Today!